The Bad Girl of Rock 'n' Roll is So Good in "Ronnie Spector's Best Christmas Party Ever!" LIVE! at The Strand
It's nearly showtime inside the historic auditorium of Lakewood, NJ's Strand Theater this Thursday, Nov. 30, 2017 evening. As we wait for tonight's performance of Ronnie Spector's Best Christmas Party Ever! we chat with several music lovers in the audience who are ready to see music legend Ronnie Spector perform here live in just a few moments.
Remarks Ed from Jackson, "I'm here because I love the 'Bad Girl of Rock 'n' Roll!' I've been a fan since 1962, and I can't wait to hear her sing 'Be My Baby' and 'Do I Love You?'"
Louis from Howell concurs, noting, "I like the old-time music — with harmony — music that you can dance to. It's not like today's music where you can't understand the words," before adding, " I've never seen Ronnie, and I'm here to get in the holiday spirit!"
For Susie from Howell, Ronnie Spector brings her back to her youth when she recalls, "I remember seeing Ronnie Spector with the Ronettes on Dick Clark's American Bandstand and on The Ed Sullivan Show. For me, her music brings back such great memories."
Lastly, we chat with Pat and Heidi from Toms River. Comments Pat, "We heard about this concert on Cousin Brucie's Sirius XM radio show. We've never seen her before, but we love her music," with Heidi acknowledging, "And this is a great venue in which to see her — we just love The Strand Theater!"
The lights dim and concert emcee Joe Mirrione takes the stage to introduce Spector, referring to her as a "Rock and Roll Hall of Famer," "an icon who changed music," "a singer who inspired Billy Joel and Bruce Springsteen," and "The Rose of Spanish Harlem."
Dressed in a sparkling gold top and black slacks, Spector takes the stage singing the Christmas classic, "Frosty the Snowman." Accompanied by a large band directed by bassist Jeremy Chatzky, Spector looks and sounds as good as ever as she smiles and sings and dances with her backup singers, The Ronettes. As the musicians perform, they put a little bit of holiday cheer in everyone's hearts as a photo of the original Ronettes appears on the large screen behind them.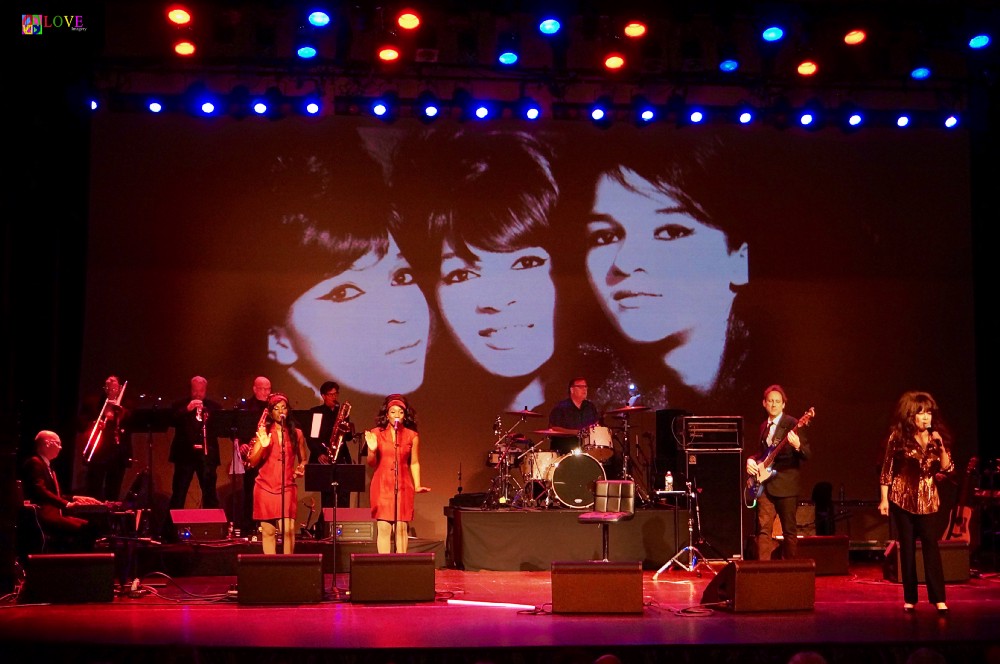 Spector ends the number by blowing kisses to the audience and announcing, "I'm so happy to be back on stage tonight!"
After revealing that, as a child, Santa Claus was her first crush and talking about how badly she wanted to meet him, Spector and the band launch into one of The Ronettes' biggest hits — 1964's "Do I Love You." The beat of the drums propel the song ever forward as Ronnie wows the crowd with her legendary voice.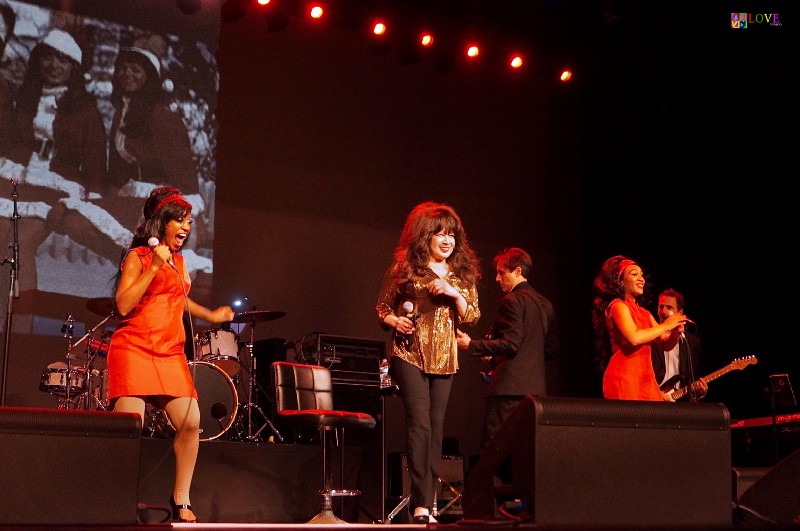 Recalling, "When I recorded 'Be My Baby,' Brian Wilson was there peeking through the glass — he liked it so much he wrote a follow up to 'Be My Baby' just for me." Here, Spector launches into her own rendition of The Beach Boys' "Don't Worry Baby." As she expertly handles the lead, she brings a new dimension to the song with her easy understated performance while the horn section adds fullness to the overall rhythm section arrangement.
"I first fell in love with Christmas when I was growing up in New York," explains Spector, commenting, "I just love Santa's red velvet suit and fluffy white fur." At this point, as old-time Christmas photos appear on the big screen, Spector sings a nostalgic rendition of "It's Christmas Once Again."
Dancing along with her back-up singers, Spector performs a dynamic rendition of The Ronettes' 1963 hit, "Baby I Love You" to audience cheers.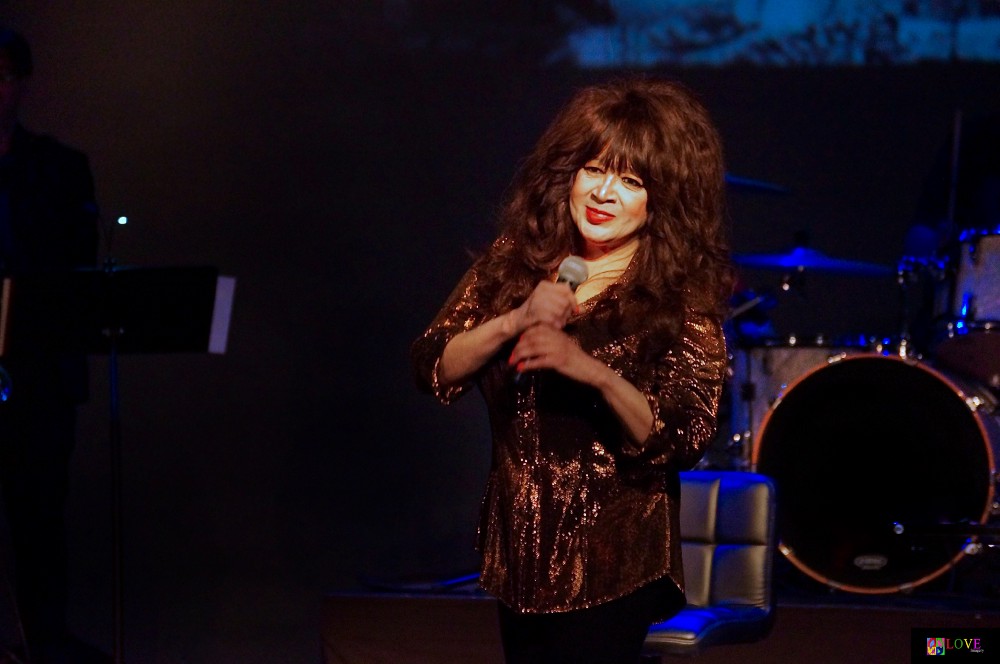 As images from television's American Bandstand flicker behind her, Spector acknowledges, "When I was seventeen, I loved Dick Clark." Announcing, "I have a special surprise for you. I've never performed this next song live before — it's an early Christmas gift to all of you," she launches into The Ronettes' 1964 recording, "When I Saw You." The new Ronettes "ooh" their way through the tune as Spector's vocal hauntingly pleads, "When I saw you, that's when I knew/I'd lose my mind over you."
Following avid applause, the sounds of sleigh bells and the clip-clop of horses' hooves resonate throughout the Strand auditorium as Spector and company perform a delightful rendition of "Sleigh Ride."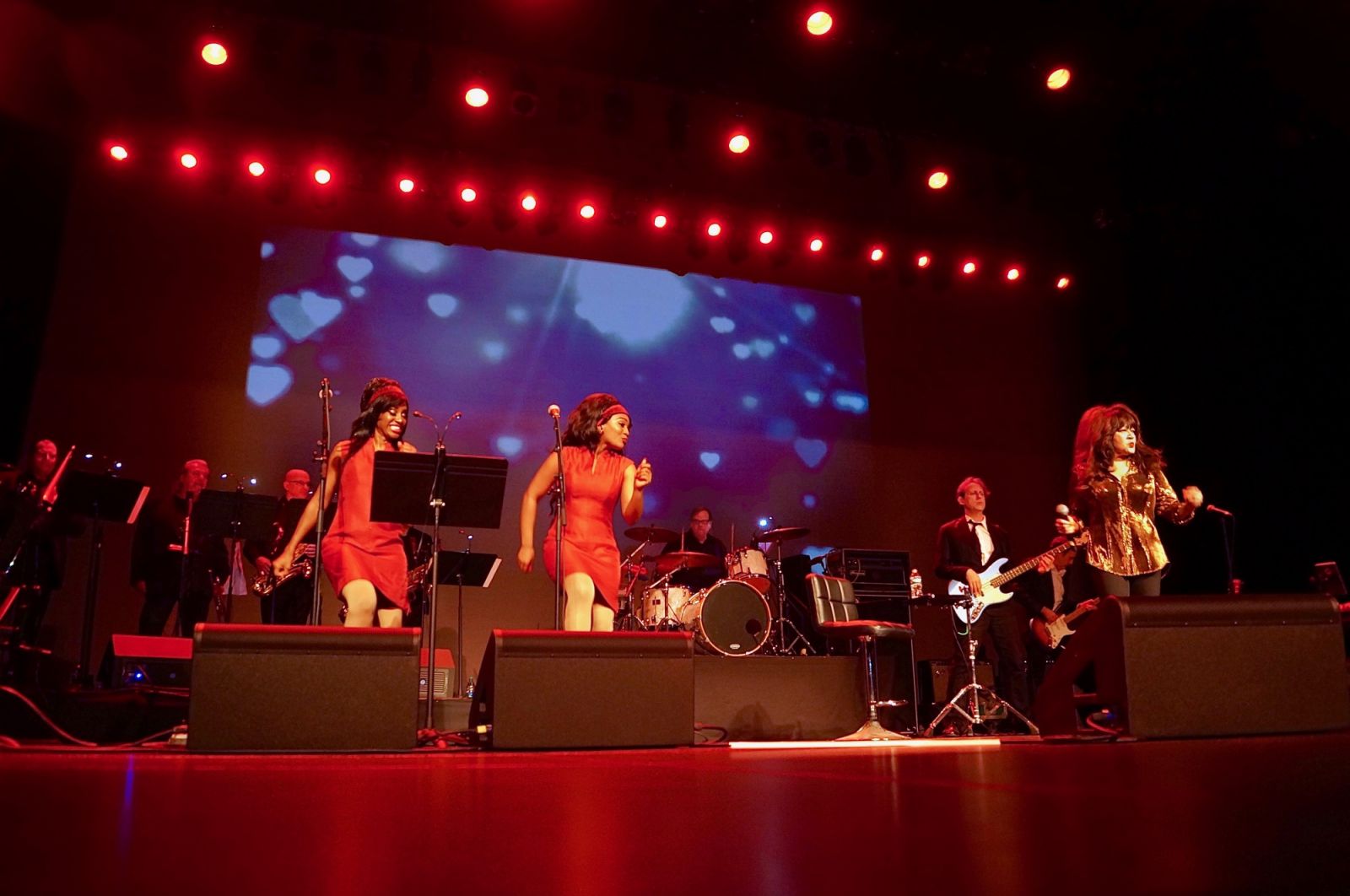 At the end of the tune, an audience member yells out, "We love you, Ronnie!"
Revealing, "This is my first Christmas show of the year," Spector tells the story about how the original Ronettes got their start in show business. According to Spector, back in the early 1960s, she and the other Ronettes happened to be outfitted in their tight dresses and wearing their "Cleopatra" make-up while visiting the trendy Peppermint Lounge in New York City. When the house band, Joey Dee and the Starliters — known for their hit song, "The Peppermint Twist" — took the stage ready to perform but couldn't begin because their dancers hadn't yet shown up, The Ronettes were asked to take the stage and dance instead.
"And when The Starliters' David Brigati handed me a microphone and said, 'Sing!'" exclaims Spector, "He didn't have to ask twice — and the rest is history!"
Moving on to a rockin' version of The Ronettes' 1963 Ray Charles' cover "What'd I Say," Spector tears down the house as an image of a 60's-era Spector and The Ronettes dance on the screen behind her.
"How do you like my band?" asks Spector. When the crowd responds in the affirmative, she asks, "How about my girls?"
After more applause and cheers, Spector asks, "How about ME?," to which the crowd goes wild!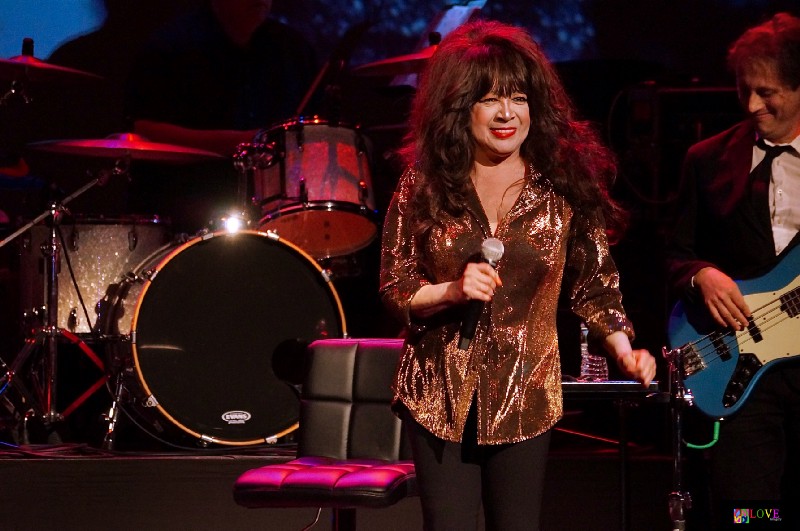 Acknowledging how much she's always enjoyed doo-wop music, Spector performs a compelling rendition of The Ronettes' 1964 "So Young," as an image of a young Ronnie Spector lights up the screen.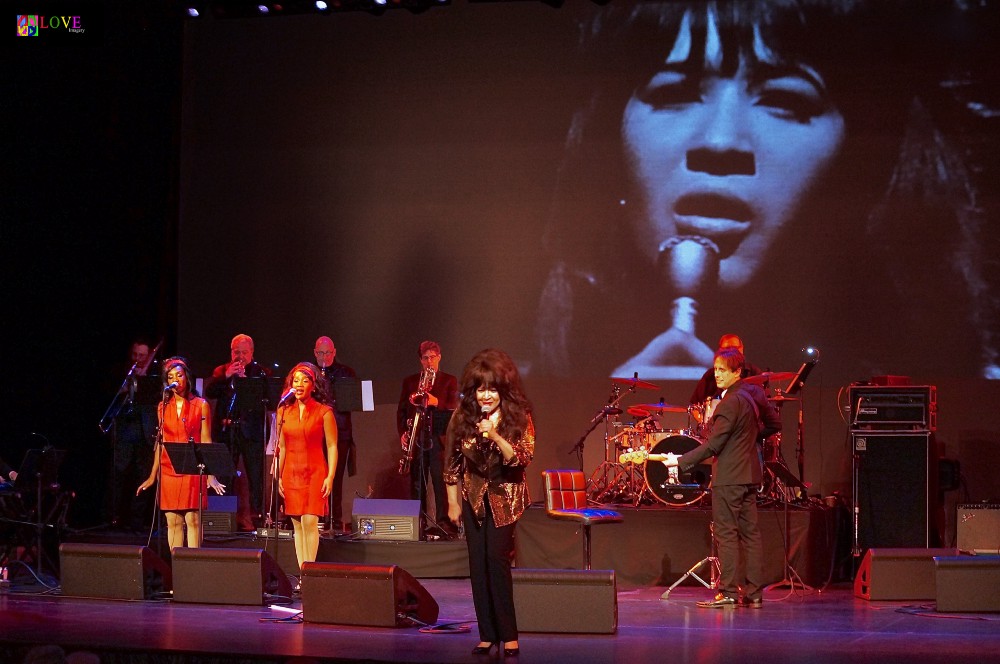 Segueing into a rhythmic rendition of the trio's 1964 hit, "(The Best Part of) Breaking Up," images of The Ronettes appear in various outfits as Spector and her current Ronettes perform live. The audience obviously enjoys the music as Spector and her singers tap their toes and pump their fists.
Following a short intermission, Act II opens with the band performing a bouncy and jazzy rendition of "White Christmas" featuring dueling keyboard solos and a potent tenor sax solo.
Sounds of thunder fill the air as Spector and The Ronettes return to the stage to perform their 1964 hit, "Walking in the Rain." The Ronettes' choreographed hand movements — in addition to the shimmering sounds of bells — add to the live performance, after which Ronnie whispers, "That's my favorite Ronettes' song."
The band rockin' tightly along, Spector performs an up-tempo rendition of "The Best Christmas Ever."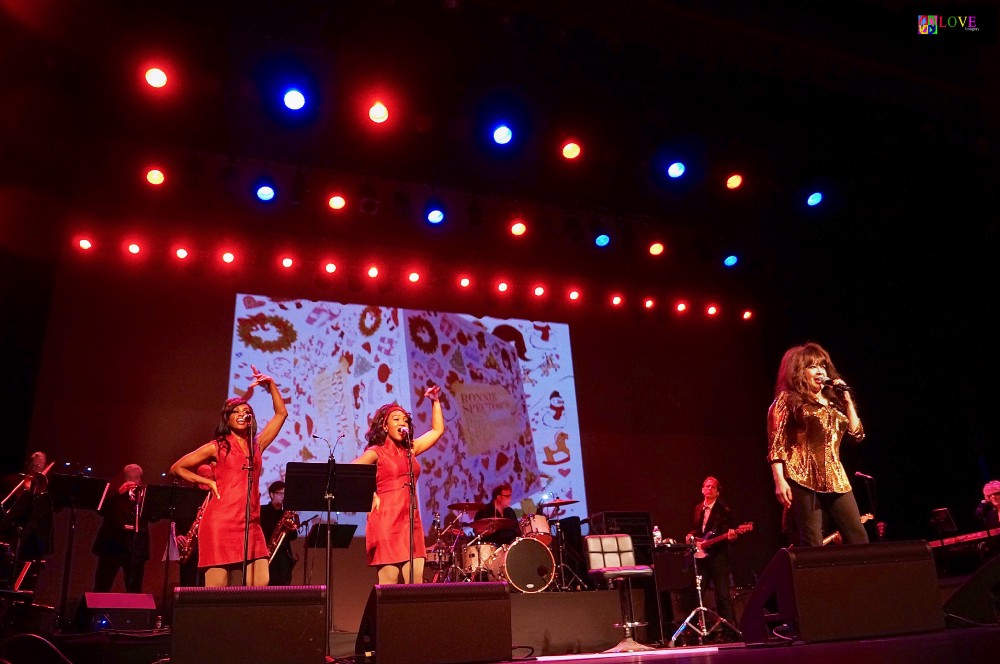 Following excited applause, she exclaims, "This is the best Christmas ever!" to which a fan in the audience shouts out, "Because of you, Ronnie!"
Ronnie talks about missing her late sister, Estelle — one of the original Ronettes — especially as the holidays approach. Wiping away tears, she performs a poignant rendition of The Bee Gees' "How Can You Mend a Broken Heart." This emotional tribute to Estelle tugs at the heartstrings of everyone present at The Strand.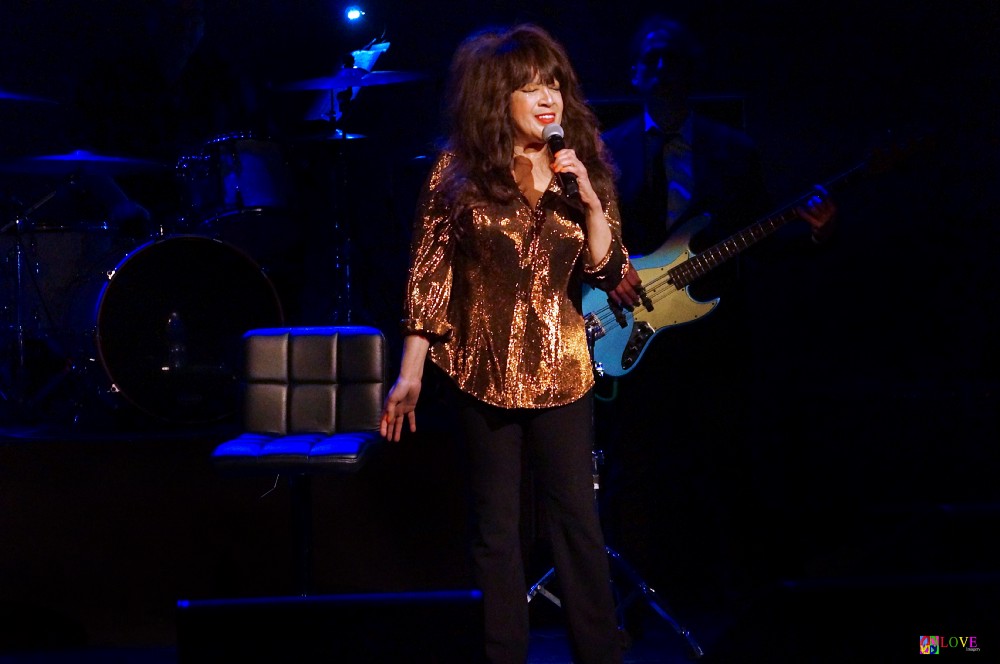 Moving on to one of the highlight numbers of the evening, Spector performs a tribute to a singer and musician whom she had a tremendous influence on — Amy Winehouse. Her voice sounding clear and full — and with her background singers and band exquisitely supporting her — Spector gives a soulful tour de force performance of the title song from Winehouse's 2007 Grammy-winning album, Back to Black.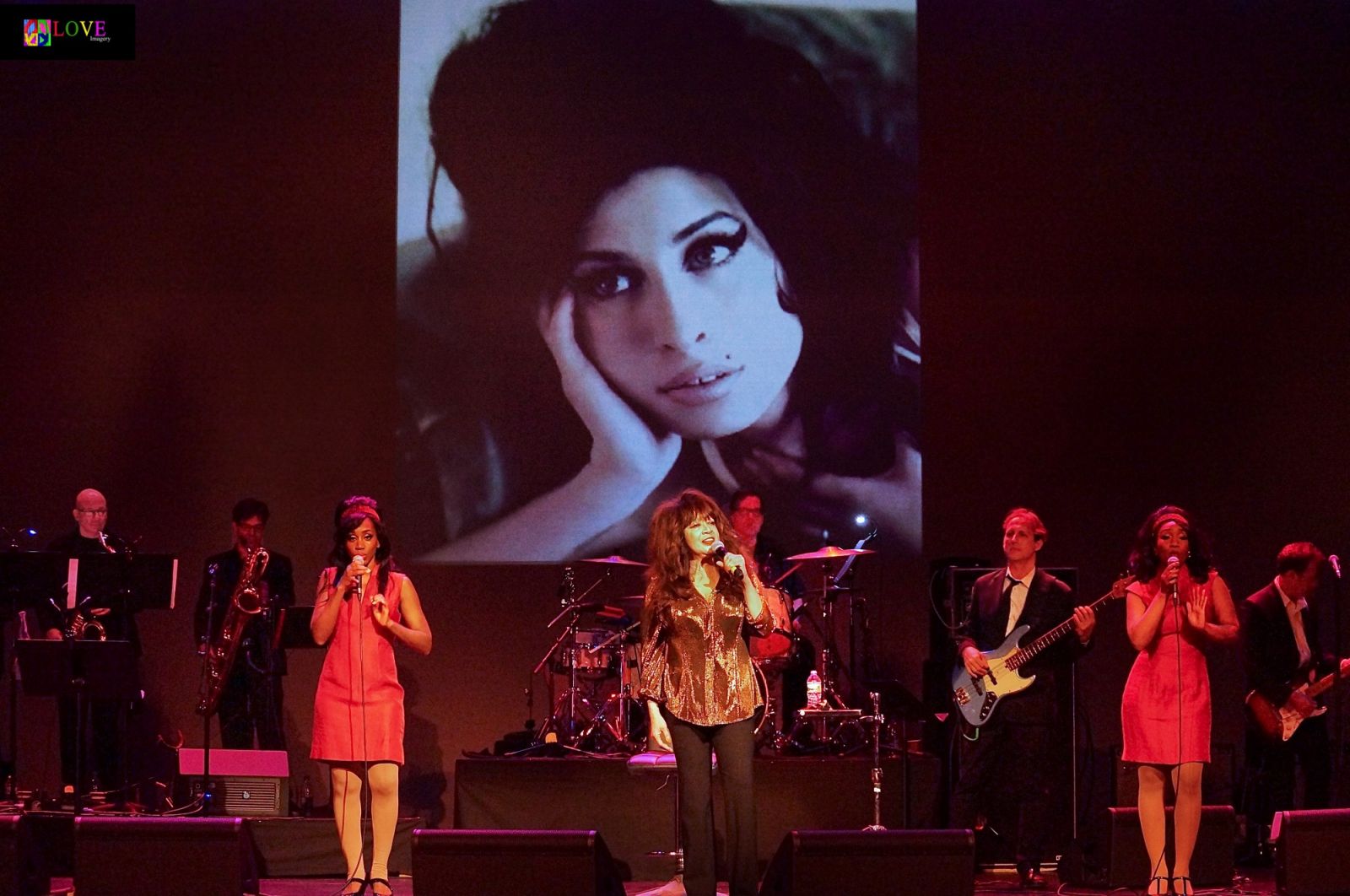 As memories of parties and good times flash on the screen, Spector sings 1962's "The Memory."
She follows that up with a number which is considered one of the greatest recordings of all time, The Ronettes' 1963 multi-million seller, "Be My Baby."
While the band accurately recreates record producer Phil Spector's "wall of sound" right here at The Strand, Ronnie sings her heart out as she dances with The Ronettes, the audience clapping and singing along to this epic single.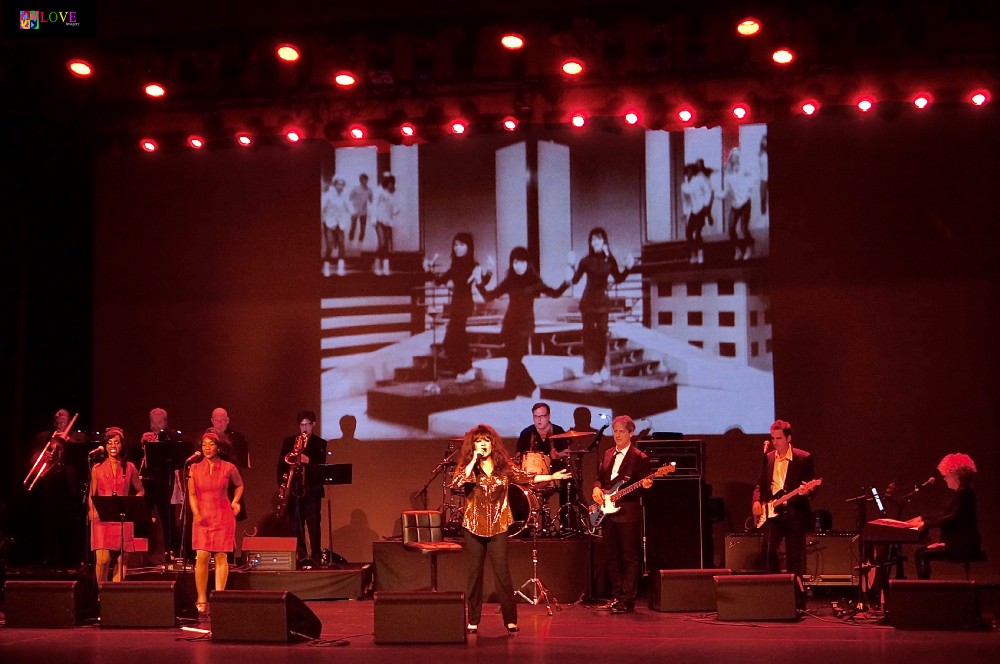 On her feet throughout the number, Spector makes her way to the edge of the stage where she shakes hands with audience members in the front row singing, "I love you so, I can't let you go!"
Following a raucous standing ovation — the audience shouting her name in an effort to get her to return — Spector retakes the stage wearing a red frock trimmed in white fur singing, "I Saw Mommy Kissing Santa Claus."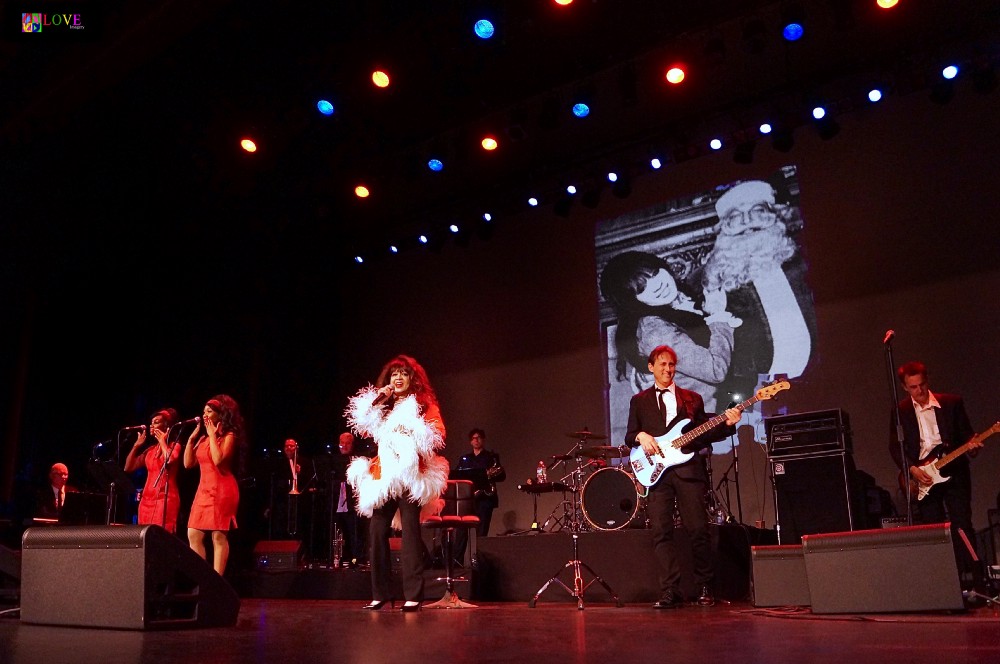 After ending with a "Cha-cha-cha!" flourish, Spector tells the story about how, in 1964, she flew to London two weeks after Christmas and spent time with The Beatles, including John Lennon — whom she refers to as "a perfect gentleman."
As a hand-drawn image of Lennon lights up the screen behind her, Spector performs Lennon's "Happy Xmas (War is Over)," a song Spector says "we need now more than ever."
For her final number, Spector, the band, and the new Ronettes perform the last number ever recorded by the original Ronettes, 1966's "I Can Hear Music." As projections of music notes spiral on the screen behind them, Spector proves that even after 55 years in the music business, she is still a force to be reckoned with, shaking hands as she leaves the stage and wishing everyone a "Happy Holiday!"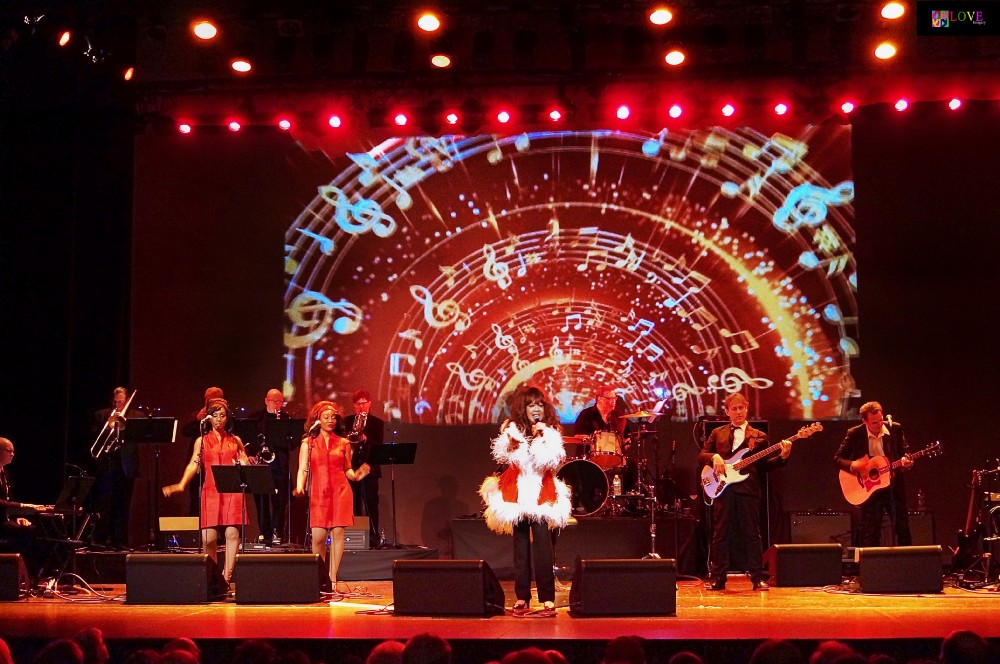 As the thoroughly-wowed crowd makes its way out of the auditorium, we chat with several concert-goers who share their thoughts about Ronnie Spector's Best Christmas Party Ever!
Asserts Ed — whom we met before the show — "Ronnie Spector could sing the phone book and it would sound good!"
Carol from Freehold calls Spector's performance, "Phenomenal — just phenomenal," commenting, "She sounds so superb, I can't even get over it!" before adding, "And I especially loved all The Ronettes' songs and the John Lennon tribute."
Dave from Upper Freeehold concurs, noting, "She's got it all together — and she's got a great band. She sells it — she's back with a passion!"
As we make our way up the aisle, we catch up with two notable musicians in the audience — Mick Mansueto and Keith Crane — respectively, the lead vocalist and drummer of The 1910 Fruitgum Company, a group known for such 1960s hits as "Simon Says" and "1, 2, 3 Red Light."
States Mick, "The first time I saw Ronnie Spector was at the Cafe Wha in Greenwich Village when she was 18 years old. I fell in love with her then," asserting, "She has the most fabulous voice! She truly came out a winner in life — she's still got it and she's still doing it!"
Mick's bandmate agrees, commenting, "She's amazing! She's also inspiring — she's 74 years old and she's still bringing it," before exclaiming, "She is just awesome — it was a wonderful show!"
We also chat with Ronnie Spector's musical director and bass player, Jeremy Chatzky, who acknowledges, "I've been with Ronnie for decades and she just keeps getting better and better!"
Lastly, we chat with Rich from Monroe Township who says, "Listening to Ronnie Spector sing, it could have been the 1960s — she sounded that good! Tonight, she was everything I could have expected and then some. I enjoyed this show as much as any other show I've seen here — it exceeded my expectations," before concluding, "At 74, Ronnie Spector still has a sexy edge to her performance so, for me, she'll always be the 'Bad Girl of Rock 'n' Roll!'"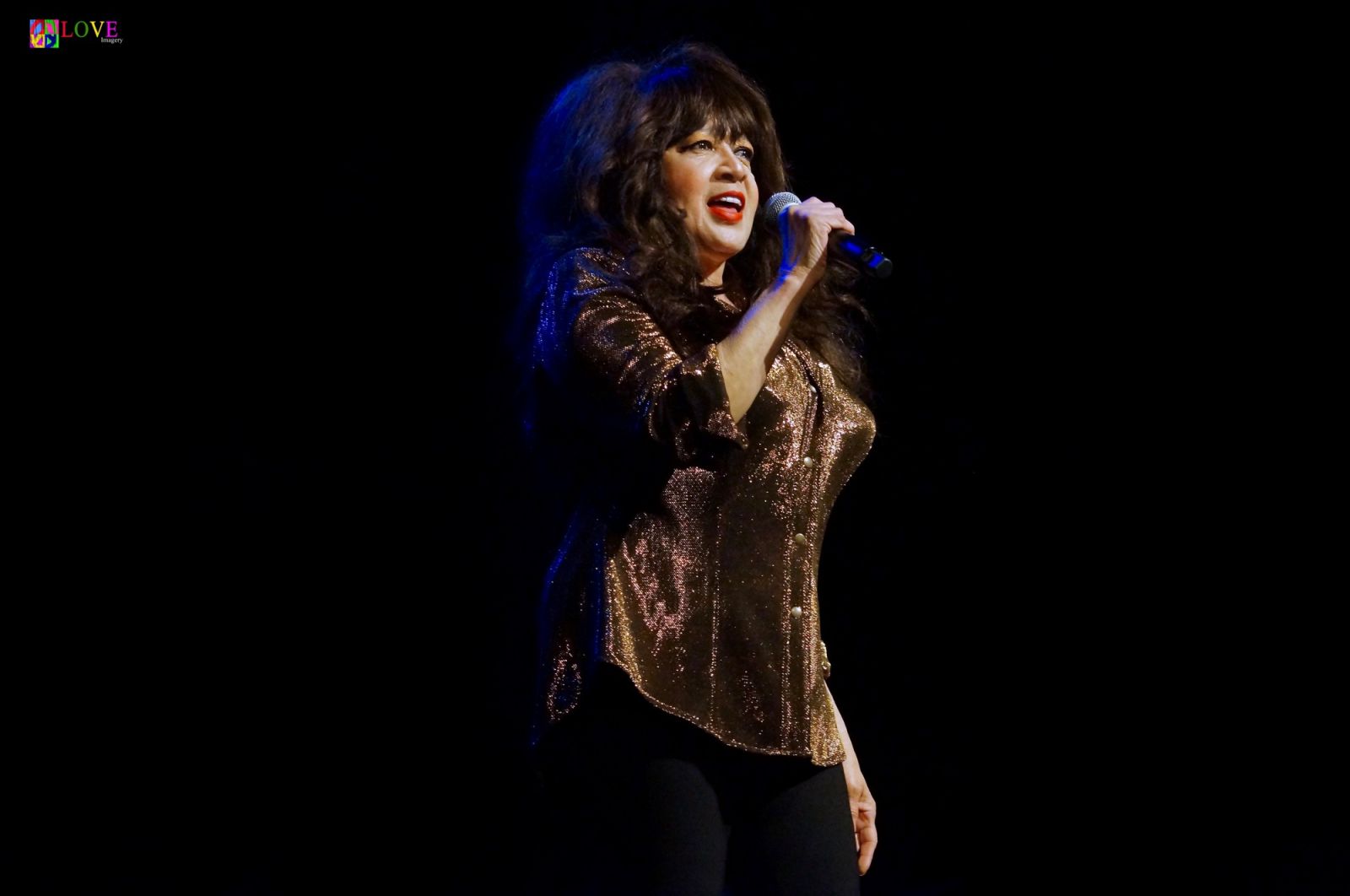 To learn more about Ronnie Spector, please go to ronniespector.com. For information on upcoming concerts at The Strand Theater — including Elvis! Ready to Rock starring Elvis Presley tribute artist Richie Santa on Jan. 6, 2018, The Cast of Beatlemania on Jan. 27, 2018, and Three Dog Night on Feb. 9, 2018 — please go to strand.org.