We Just Can't Help Fallin' in Love with ELVIS Tribute Artist Richie Santa!
It's nearly 7 pm on Saturday, January 14, 2017 at Lakewood, NJ's Strand Theater. To celebrate "The King's" 82nd birthday, a crowd of young and old has assembled here to enjoy tonight's featured performer — consummate Elvis Presley tribute artist, Richie Santa.
But just what is it that makes a young boy from Brooklyn, NY want to grow up and emulate Tupelo, Mississippi's favorite son, Elvis Presley?
Before the concert, we have a chance to go backstage and descend the stairs to his dressing room to chat with Richie Santa about his career as a musician, as an Elvis Presley tribute artist, and as an entertainer who frequently performs here in the Garden State.
Reveals Mr. Santa, "I've been a fan of Elvis my whole life," going on to add, "Most tribute artists, I'd say, have been fans since childhood."
"When I was about eight years old," Santa continues, "I saw an Elvis movie on TV and asked my mother, 'Mom…who IS that?"
As a youngster, Richie went on to share his love for music and Elvis with his younger brother, Robert, who also grew up to become a professional musician. Exclaims Richie, "Trying to sing and move like the KING became an everyday occurrence in the Santa household."
As a young man, Mr. Santa started his professional music career in the early 1980s with a band called Neighborhood Jukebox, a group which opened for Roy Orbision in 1984 and performed live on CBS's 101.1 FM radio. He also sang the title track to the late-80's television show called Fast Forward.
It was around this time that an unknown comic from Brooklyn — Andrew Dice Clay — got his big break and asked Richie and his band to back him up at venues across the country.
Continuing to work professionally as a musician for the next several decades, Santa covered many different artists from Sinatra to Bon Jovi but no one influenced him the way he was inspired by "The King."
"I always sang Elvis tunes in my regular clothes at gigs," reveals Richie, "but about ten years ago, I decided to become a tribute artist because Elvis' music brought me the most joy, and it's still what I want to do."
"Plus I had the hair," he adds with a smile.
According to Mr. Santa, "Elvis recorded over 700 songs." Some of Santa's favorites include "Return to Sender" — also still a favorite of his manager and his brother, Robert — in addition to "Blue Hawaii," "Make the World Go Away," "You Don't Have to Say You Love Me," and "Suspicious Minds."
"I also like 'I Can't Help Falling in Love with You,'" adds Richie, acknowledging that "Elvis always closed his shows with that song." Discloses Santa, "For a short time, Elvis changed it to a different last song, but the audience didn't like that, so he changed it back!"
Other more obscure Elvis favorites of Richie's include "Just Pretend" and "The Wonder of You."
Mr. Santa says he is especially pleased to be performing at The Strand Theater tonight explaining, "For this performance, I have my ten-piece band with me," and going on to note, "When you are standing up on stage and there are ten pieces behind you and they're doing it right, it's terrific!"
According to Santa, for him, performing Elvis' music accurately involves a tremendous amount of attention to detail. As such, he tells every musician who works with him to "Look at the music as if you ARE Elvis's band. Learn the music 'the Elvis way' and 'cop' 'the Elvis feel."
By way of example, Santa notes that his guitarist, Michael Louis, "gets Elvis' guitarist, James Burton's, feel" because "he is very disciplined" and, in the interest of accuracy, Richie's drummer, Vinny Conigliaro, "writes out his drum charts to get it right."
And when all of musicians work together as a unit and everything flows just as it should, Richie says, "I just love it, man! I'm just glad to be part of the Elvis Tribute Artist world" — a group which Santa states "numbers in the thousands."
And just how does this particular Elvis tribute artist and his musician friends enjoy performing in New Jersey at The Strand?
Asserts Mr. Santa, "Even though the band is from Brooklyn and Staten Island, we love Jersey, so we make a lot of trips to play here. And we especially love the Strand because they make you feel like family here."
And right up the stairs, the collective family of Elvis admirers — many of them from the Garden State, but also counting others who have traveled here from elsewhere in the region — are ready for the show to begin!
The lights dim, the band members walk out onto the stage, and they begin to play the theme from the film, 2001, A Space Odyssey.
The music builds and Richie enters the stage to excited applause. Then, the band segues into a song with which Elvis often opened his shows — "CC Rider" — the crowd ready to meet "The King" as colored lights dance against the backdrop.
As Richie croons, like Elvis, he shakes his leg to the beat as his backup singers punctuate the song with their polished voices and moves.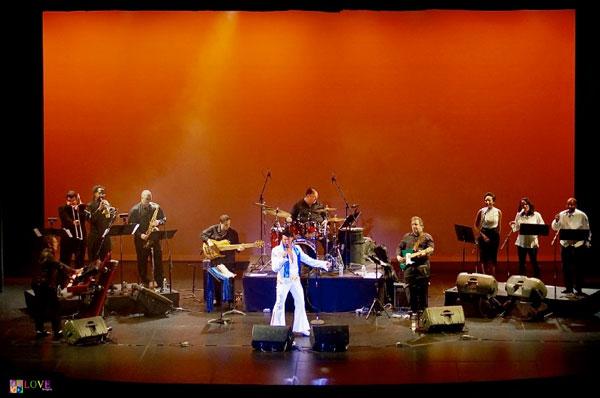 During his performance, Richie delights his audience with a jukebox full of classic Elvis songs including "Burnin' Love," "Blue Suede Shoes," "Hound Dog," and "Return to Sender."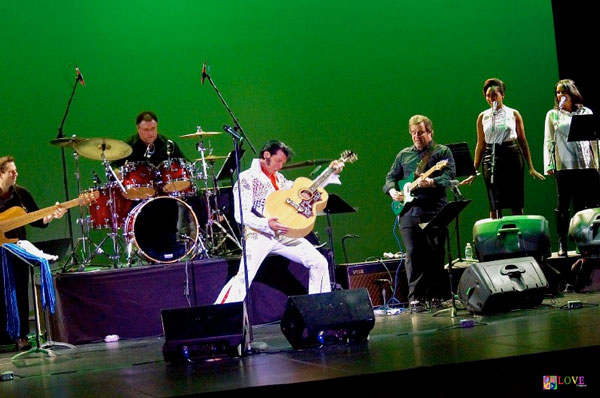 Highlights of the performance include "Welcome to My World" from Elvis' film, Aloha from Hawaii, Santa explaining that, tonight, he is wearing a replica of the suit that Elvis wore in the film. In addition, Santa performs a compelling version of "You Gave Me A Mountain," his powerful voice easily filling the 1000+ seat venue, putting smiles on the faces of Elvis fans throughout the auditorium.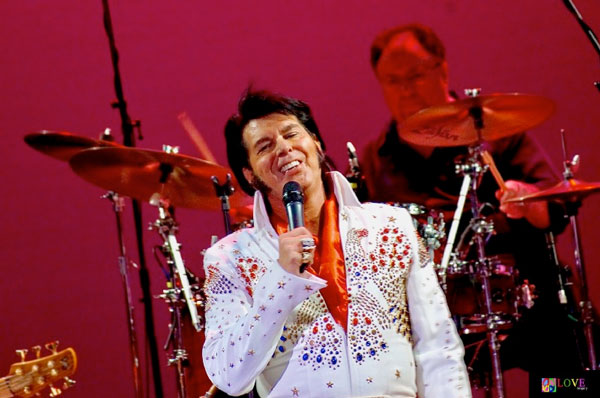 Another highlight of the show includes a song which Elvis performed in 1972 — Creedence Clearwater Revival's "Proud Mary" — Santa modulating the refrain just the way Elvis did as he takes the entire audience on a rollicking musical trip "rolling on the river."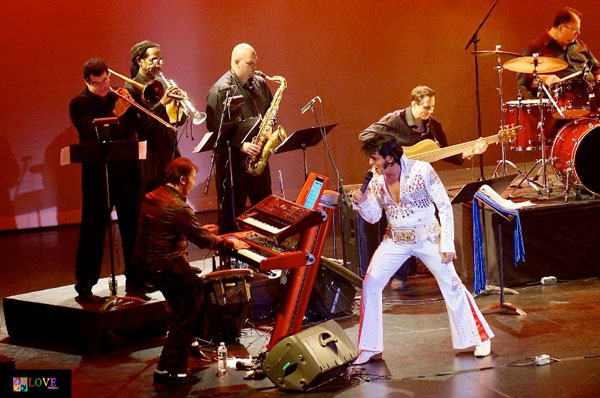 One of several audience favorites includes "Love Me Tender." On this number, as Richie sings, women in the audience line up like beauty contestants to receive a scarf and a kiss from "The King."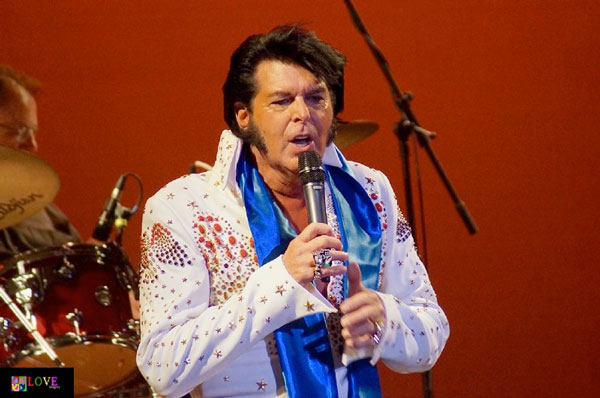 Before performing Elvis' version of The Beatles' "Something," Santa introduces his dynamic back-up group: Carla Gibson, LaJuan Carter, and Keith Anthony Fluitt on vocals; rhythm players Michael Lewis on guitar, Paul Briscoe on bass, and Vinny Conigliaro on drums; and horn players James K. Smith on trumpet, Billy Ramirez on sax and flute, and Jaime Ramos on trombone.
At this time, Santa also introduces his keyboardist, Frankie "Sweets" Perry, who, according to Perry, gets his nickname because he "loves chocolate" and because he's developed a fondness for one of Elvis' favorite concoctions — "fried peanut butter and banana sandwiches" —since he started playing Elvis' music!
After powerhouse performances of "You Don't Have to Say You Love Me" and "It's Now or Never," Richie jokes that he is going to need a jacuzzi after the show…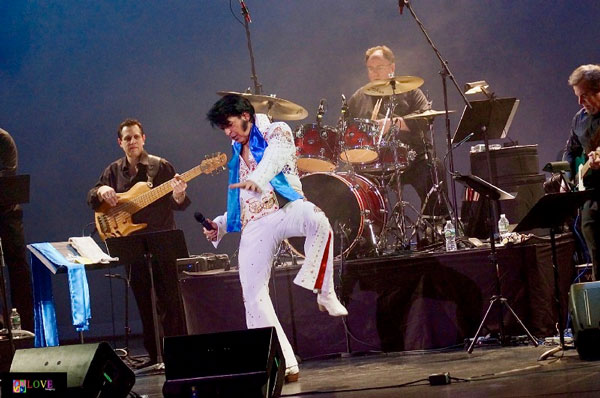 …to which an excited fan yells out, "So come to my house!," leaving Richie speechless for a moment.
After regaining his composure, Santa performs the Presley rendition of Del Shannon's hit, "Runaway," inviting the entire audience to sing along on the ubiquitous "I wah-wah-wah-wah-wonder" refrain.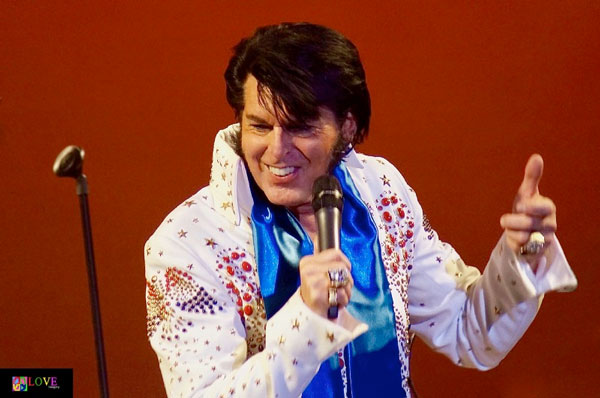 Bringing the house lights up so "The King" can better see the crowd, Santa also invites the delighted audience to sing along on "All Shook Up" before shaking things up even more by inviting everyone to say "hi"after the show in the Strand's comfortable meeting place — The Gallery.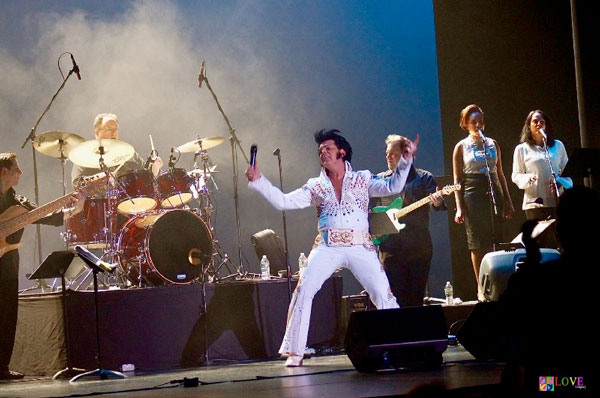 The audience appreciates his invitation and is not shy about saying so. Many call out to tell "Elvis" where they are from — The Bronx, Coney Island, Brooklyn, and, of course, The Garden State.
Following an outstanding Elvis-inspired version of James Taylor's "Steamroller Blues," Santa ends the concert with the Presley staple, "I Can't Help Falling in Love With You," bringing people to their feet cheering for Richie and the music and memories of The King he's brought to this impassioned audience tonight.
As the fans make their way over to The Gallery to meet their hero, several stop to chat with us about the performance they've just experienced.
Roxann, from Barnegat, calls Santa's tribute, "Fantastic — I've never seen a show like this," going on to add, "there are no words — this gentleman is just unbelievable."
Roxann further reveals, "I've been to many 'legends' concerts, but this beats everything," and then takes a moment to tell us how much she's enjoyed her experience at The Strand — a venue she'd never been to before, even though she's lived close by for a number of years. "The Strand is a nice-sized theater — and I really like the sound here," she discloses, and then further acknowledges how much she appreciates the "kindness" of the "staff members."
We also get a chance to chat with a family of three generations of Elvis fans.
Joan, from Lakehurst, is a grandma who's been an Elvis fan since childhood, playing The King's recordings for her own daughters as they were growing up. States Joan about Santa's performance, "It was a great concert — I just wish it had been longer!"
Daughter Kristine from Brick is happy to have accompanied her mother to the show. "I'm an Elvis fan because of my mom," explains Kristine. "And I also played some Elvis songs for my daughter and she really likes 'Burnin' Love.'"
Kristine's daughter, Alexa, is also in the crowd tonight with her mom and grandmother. This elementary-school-aged youngster characterizes her overall experience as "Awesome!," but also goes on to acknowledge, "I guess I was a little scared, though, when "Elvis' gave me a scarf and a kiss!"
Mary, currently from Bayville, explains that she was raised in Spain where she grew up listening to Elvis' music.
"All my life I've been an Elvis fan," she exclaims, "and, for me, this concert was just beautiful!"
Mary's friend, Rita, from Lakehurst, also chimes in, "He was beautiful! I loved seeing Richie bringing Elvis to life, especially when he made all of those sexy moves — I just wanted to jump out of my chair!"
All in all, the reaction of these diehard fans suggests that — with respect to Richie Santa and his portrayal of The King — they just can't help falling in love with him.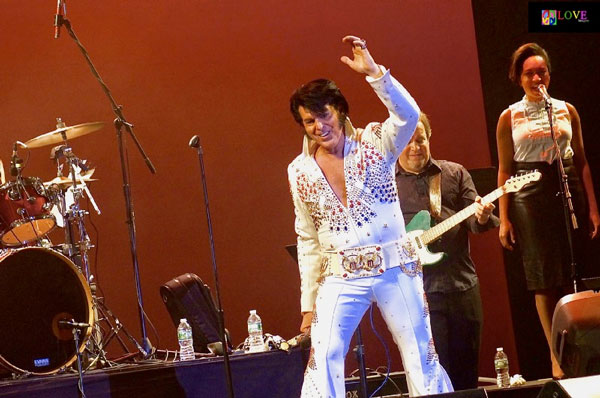 For more on Richie Santa — including information on his latest CD, Welcome to My World, in addition to future concert dates, notably his upcoming August 19, 2017 performance at The Strand — please visit www.richiesanta.com. For other performances at The Strand — including tribute artists Bee Gees Gold on Feb. 11 and Almost Queen on March 11 and Pop, Rock and Doo Wopp Live! starring The Brooklyn Bridge, The Crystals, and more on April 28 — please go to strand.org.