"Moonlight Serenade" | The Glenn Miller Orchestra LIVE!
As the audience mainly comprised of members of America's "greatest generation" enters the Strand Theater in Lakewood, NJ on November 2, 2016, there's excitement in the air as New Jerseyans are presented with a rare opportunity to relive memories of a simpler time with a live performance by the world-famous Glenn Miller Orchestra.
Glenn Miller was America's #1 best-selling recording artist from 1939 to 1943, leading one of the best-known big bands in the world.
Miller was born in Iowa in 1904, but as a youngster, moved with his family to Missouri. By the time he was 11, Miller had made enough money from milking cows to buy his first trombone. After moving to Colorado, during his senior year of high school, Miller became keenly interested in a new style of music called "dance band music." In fact, he was so taken with it that he formed his own band with some classmates and by the time he had graduated, he decided to make his mark as a professional musician.
After college, Miller went to New York City where he found work as a freelance trombonist with musicians including Tommy Dorsey and Benny Goodman. He also performed as a Broadway pit orchestra trombonist and on recordings with the likes of Bing Crosby. After marrying his college sweetheart, Helen, in 1937, he started his own group; by 1938, however, the group had disbanded.
Discouraged, Miller created a new sound where he had a clarinet and tenor saxophone play the exact same part while three other saxophones played harmony together within a single octave. This magical combination differentiated his band from all others that existed in the late 1930s, prompting Miller to explain, "The fifth sax, playing clarinet most of the time, lets you know whose band you're listening to, and that's about all there is to it."
After signing with RCA Victor's Bluebird Records, Miller's group had a string of hits including "Chattanooga Choo Choo," which was awarded the first gold record. His music made fans out of other prominent musicians including Louis Armstrong — who is said to have carried seven-inch tape reels of Miller's music which he could listen to when he was out on tour — in addition to such vocalists as Frank Sinatra and Mel Torme.
In 1942, at the peak of his musical career, Miller decided to volunteer for the armed forces. There, he formed a 50-piece Army Air Force Band, which he took to the UK in 1944 and presented over 800 performances. While in England, he also recorded at Abbey Road Studios, his music being used for entertainment and building morale; at the time, one general exclaimed, "next to a letter from home," Miller's music "was the greatest morale builder in the European Theater of Operations" during World War II.
While flying from the UK to France to make arrangements to move his band there, Miller's aircraft disappeared in 1944 in bad weather over the English Channel. His wife, Helen, accepted his Bronze Star medal on his behalf.
In 1946, the Miller estate authorized a band which was led by Tex Beneke; this edition of the band toured until 1950. After the release of the motion picture, The Glenn Miller Story, in 1956, the Miller estate authorized yet another band, the original version of the current orchestra that still tours today.
Tony Pallagrosi, producer of the Glenn Miller Orchestra presentation at The Strand, is a musician who played trumpet with Southside Johnny and the Asbury Jukes and toured with Bruce Springsteen. In this day of multiple tribute bands, Pallagrosi explains that the Miller family is the only organization to have access to the original music charts that Glenn Miller used; as such, the family retains strict control over Miller's music, authorizing only the official Glenn Miller Orchestra to perform it.
According to Pallagrosi, in 1942, Glenn Miller himself played one of his last concerts at Convention Hall in Asbury Park, NJ. At a recent performance of the current edition of the Glenn Miller Orchestra in Asbury Park, Pallagrosi reveals that a fan who had experienced Miller's 1942 concert in Asbury Park also attended the recent show, coming to enjoy the music attired in his US military uniform.
At The Strand, the curtain rises to reveal the 16 red-blazered musicians of the Glenn Miller Orchestra as they open with one of Glenn Miller's signature songs, "Moonlight Serenade," a song composed by Miller himself. As a group, the Orchestra sounds virtually identical to the Grammy-inducted 1939 recording of the song, but much crisper, much fuller, and much more alive! One can still enjoy the old-time vibrato of the saxophones as they contrast with the trumpets' and trombones' punctuating countermelody but, this time, with crystal clear fidelity courtesy of The Strand's top-notch sound system and house audio engineers.
Moving on to Miller's 1941 hit, "Chattanooga Choo Choo," band leader Nick Hilscher, his hair gleaming with pomenade, snaps and cues the band. Listeners enjoy the wah-wah of the muted brass and the doot-doot of the clarinet as it whistles into the microphone. Singing and swinging to the infectious melody, the audience cheerfully claps along. The singing group, the Moonlight Serenaders — comprised of Hilscher, female vocalist Maria Schafer, and three members of the orchestra who take a break from playing their instruments to sing — croon in five-part harmony, swinging up a storm.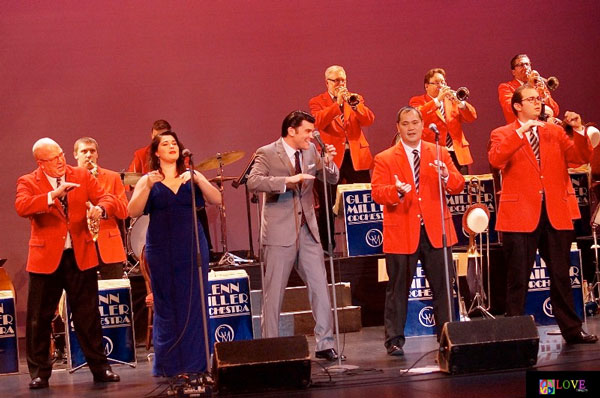 Hilscher and the Orchestra follow this up with a terrific version of Miller's "Oh So Good" featuring Ron Mills on piano, Jared Kaczynski on alto sax, Steve Walters on trumpet, Michael DeSousa on trombone, and Greg Zabelon on bass, in addition to Kevin Sheehan on clarinet. Along with the instrumental solos, the entire orchestra vocally punctuates the lively musical arrangement as they all periodically sing together, "Oh so good — so good!"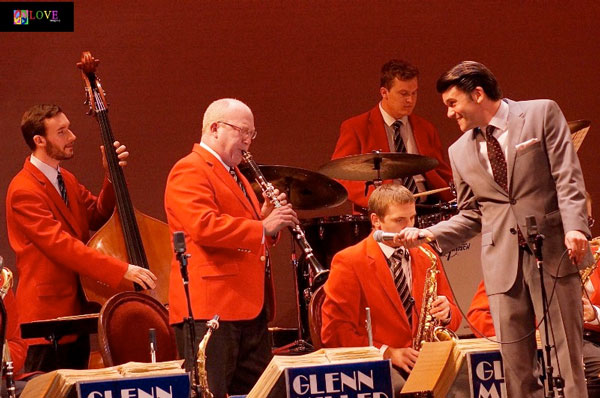 Next comes "Serenade in Blue," a 1942 Top Ten romantic swing ballad featuring band leader Hilscher's warm baritone crooning above the band, "When I hear that Serenade in Blue, I'm somewhere in another world, alone with you/Sharing all the joys we used to know many moons ago." With his smooth vocal performance, Hilscher completely captivates the crowd.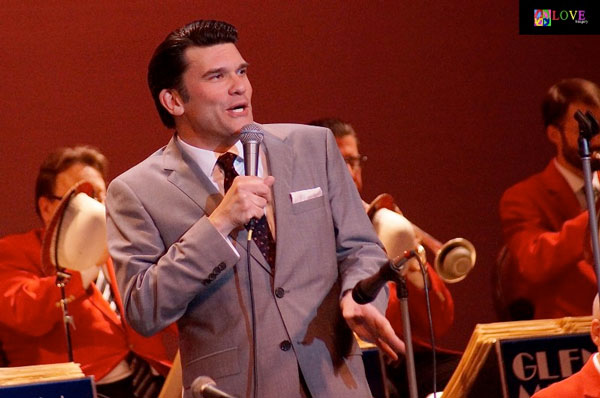 Hilscher and the Orchestra follow that up with "Little Brown Jug" — a rollicking swing version of the well-known 1869 folk tune— arranged for the band in 1939 and also featuring the vocal stylings of The Moonlight Serenaders.
Miller's 1941 #1 hit, "A String of Pearls," is next — the glistening saxophones opening with that infamous melodic strain which is then answered by the trombones. With this number, The Glenn Miller Orchestra demonstrates their musical acumen with great attention to dynamics, having the opportunity to move the audience with playing that ranges from pianissimo to fortissimo.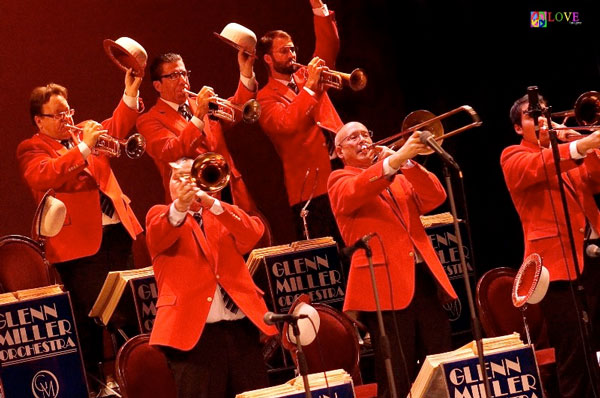 Following a zippy version of "Dippermouth Blues," a King Oliver tune made famous by Louis Armstrong, Hilscher's lead vocal is featured on the Sinatra staple, "Come Fly With Me." Next, the group performs a nostalgic version of Alberto Dominguez's "Perfidia," the Moonlight Serenaders crooning in tight vocal harmonies and echoing the nostalgic sound of days gone by.
"American Patrol" is a 1942 Glenn Miller tune which combines original themes in addition to well-known American melodies like "Dixie" and "Columbia, The Gem of the Ocean." Hilscher dedicates this number to the considerable number of veterans in attendance at The Strand who stand to be recognized. The crowd not only applauds the veterans but continues to clap enthusiastically throughout this appealing patriotic number.
Following a short intermission, the Orchestra returns to the stage to perform a unique swing arrangement of The Beatles' "A Hard Day's Night," and follows that up with a dynamic version of Miller's 1940 hit, "Pennsylvania 6–5000" complete with telephone "rings" on the cymbals and the entire band vocalizing the title.
Johnny Mercer's "Fools Rush In" is a romantic swing ballad featuring a lush instrumental arrangement and a smooth vocal performance from Hilscher. The Orchestra follows this with a slow syncopated version of "Johnson Rag," and two songs featuring female vocalist, Maria Schaffer — the jazz standard "When Your Lover Has Gone" and Duke Ellington's "I Got it Bad and that Ain't Good," Shaffer's velvety voice rising above the strains of this fabulous musical ensemble.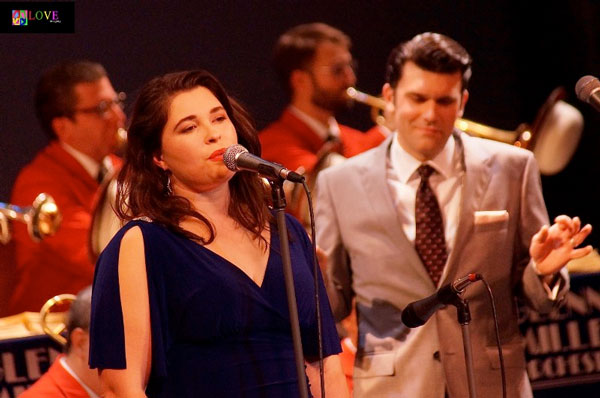 Another highlight of the performance is Miller's 1938 #1 hit, "Tuxedo Junction," which features a growling trumpet solo by the talented brass player, Steve Walters.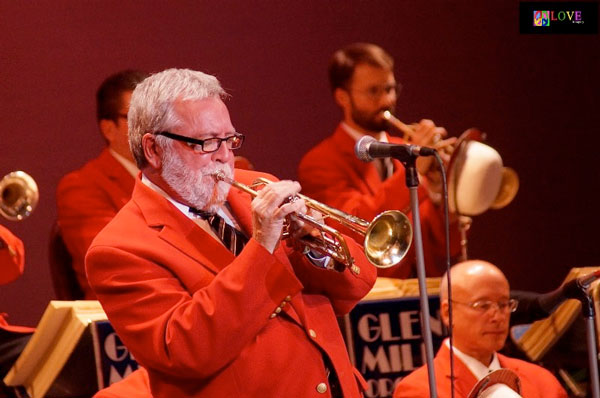 The Orchestra follows this up with 1942's "When Johnny Comes Marching Home" and then, one of Glenn Miller's signature songs — his 1940 hit that topped the charts for over three months — "In the Mood," its soft dynamics growing to the loud blasts of the brass creating the classic sound for which this legendary musical group is famous.
Hilscher and the Orchestra conclude their stroll down Memory Lane with a reprise of "Moonlight Serenade," another Glenn Miller classic that can't help but bring back memories of a simpler time.
After a warm standing ovation, Hilscher and Orchestra play an encore of Miller's swinging "Here We Go Again," the audience hooting and hollering as the curtain falls.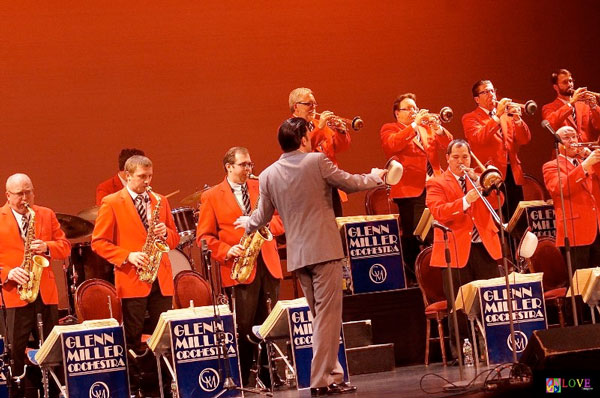 As the crowd exits The Strand, they talk about this nostalgic evening of music and memories they've just experienced with the Glenn Miller Orchestra.
Lucia from Jackson, for example, loved the group's performance exclaiming, "Fantastico! Bravo!"
Led from Lakewood echoes this feeling adding, "Fabulous — just outstanding!"
Julio and Maribel from Jackson talk about the "great" music they both enjoyed on this magical night, calling the performance by the Orchestra both "emotional" and "sentimental."
And for our opinion?
The Glenn Miller Orchestra's appearance at The Strand was a nostalgic evening of music brought about by a brilliantly-played selection of classic American tunes making this, for us, a true "Moonlight Serenade."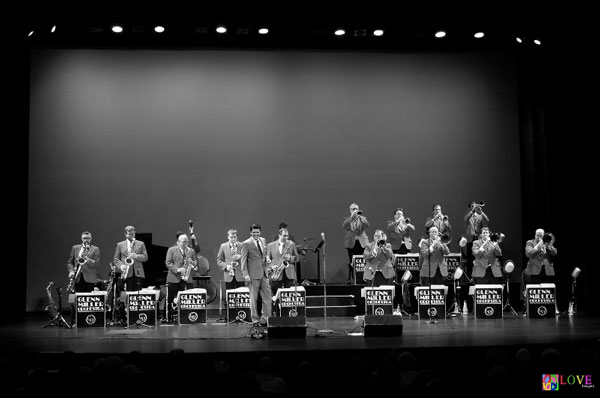 To learn more about The Glenn Miller Orchestra, please go to glennmillerorchestra.com. For more information on upcoming events at The Strand — including Exit 82 Theatre Company's version of It's A Wonderful Life on Dec. 1–3, and The Atlantic City Ballet's version of The Nutcracker on Dec. 18— please see www.strand.org.