"If You're a Fleetwood Mac Fan, You've Got to See Tusk!" LIVE! at The Strand Lakewood
Inside Lakewood, NJ's historic Strand Theater this Sat. Jan 13, 2018 evening, the crowd is getting ready to be transported back to the 1970s with a concert by Fleetwood Mac tribute band Tusk.
Promoter James D'Amico welcomes the audience and introduces tonight's warm up act, Sof. A singer-songwriter from East Brunswick, NJ, Sof tells the crowd she's happy to be back at The Strand after performing here in January, 2016 at the "Salute to David Bowie" tribute concert hosted by singer Anthony D'Amato aka Remember Jones.
Performing a mix of originals and covers, Sof impresses the audience with her skilled vocals and guitar playing leaving the audience wanting more, especially after her impressive rendition of Elton John's "Benny and the Jets."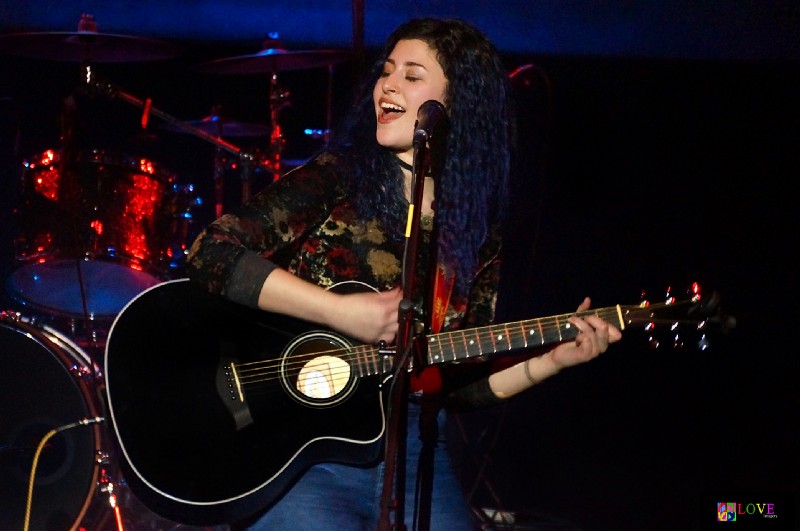 Following avid applause for Sof, the members of Tusk make their way through the fog and onto the stage.
Tom Nelson starts to play the drums, and he's soon followed by Randy Artiglere on bass, Scott MacDonald on guitar, and Kim Williams on keyboards. Soon, rays of light stream across the stage as Kathy Philips — dressed as Stevie Nicks — floats onto the stage.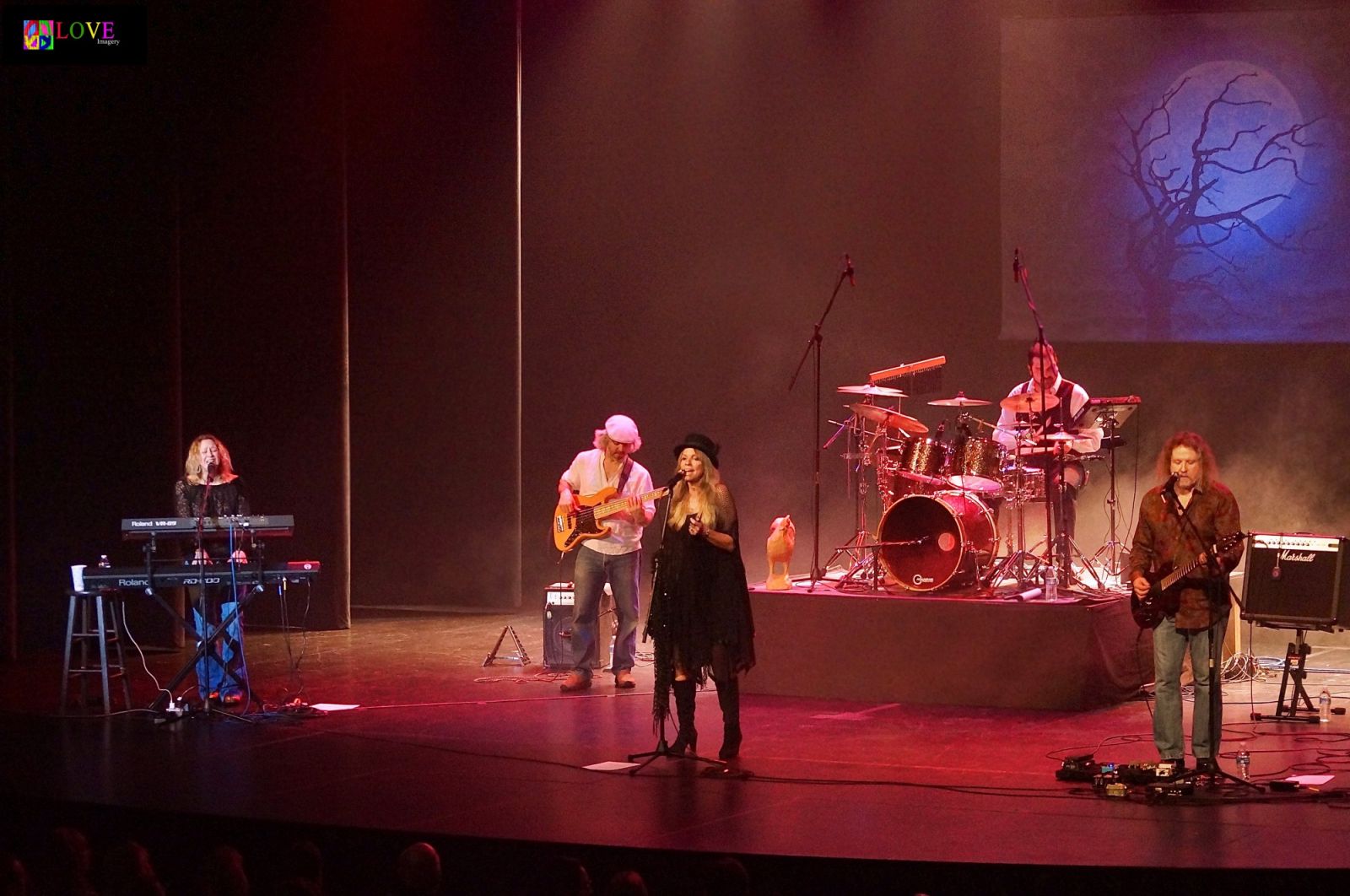 Performing a dynamic cover version of "The Chain," the spotlight rains down on Artiglere on bass as Kathy Philips as Stevie sings and plays her tambourine. Phillips' dress envelops her body while stage lights dance to Scott MacDonald's lead vocal.
Top-notch vocals by Phillips follow on "Dreams," after which Kim Williams — as Christine McVie — takes the lead on "Say You Love Me," the audience screaming, cheering, and yelling approval for the band even before the end of the song.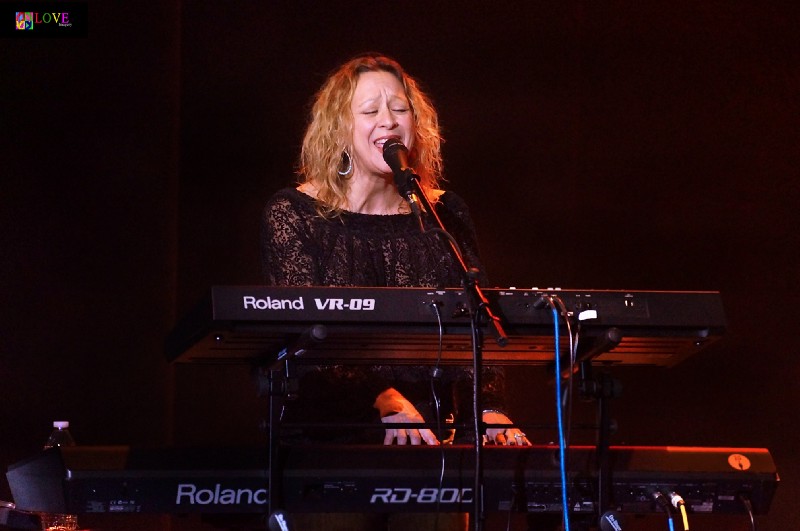 Philips welcomes the crowd, asking the audience to "give it up for Sof for opening up for us!" and announcing, "We are Tusk, and we're doing all Fleetwood Mac songs tonight."
After a rhythmic version of "Second Hand News," the group launches into a cool cover version of "Little Lies" featuring Kim Williams. The group's vocal harmonies are tight, as is the tip-top drumming of Tom Nelson.
A steady cowbell punctuates Philips' distinctive vibrato on "Gold Dust Woman," as she emotes and makes her way across the stage with flowing movements.
Kim Williams does a skillful job on lead singing "Over My Head," as Philips plays shaker to the easy groove. Lights flash to Nelson's drumming, his set illuminated in the drifting fog.
On "I'm So Afraid, Scott MacDonald's guitar wails as heads bop in the audience, the crowd entranced by the music as Philips dances with her tambourine.
The crowd rewards the band with hollers ad cheers as many rise from their seats in approval.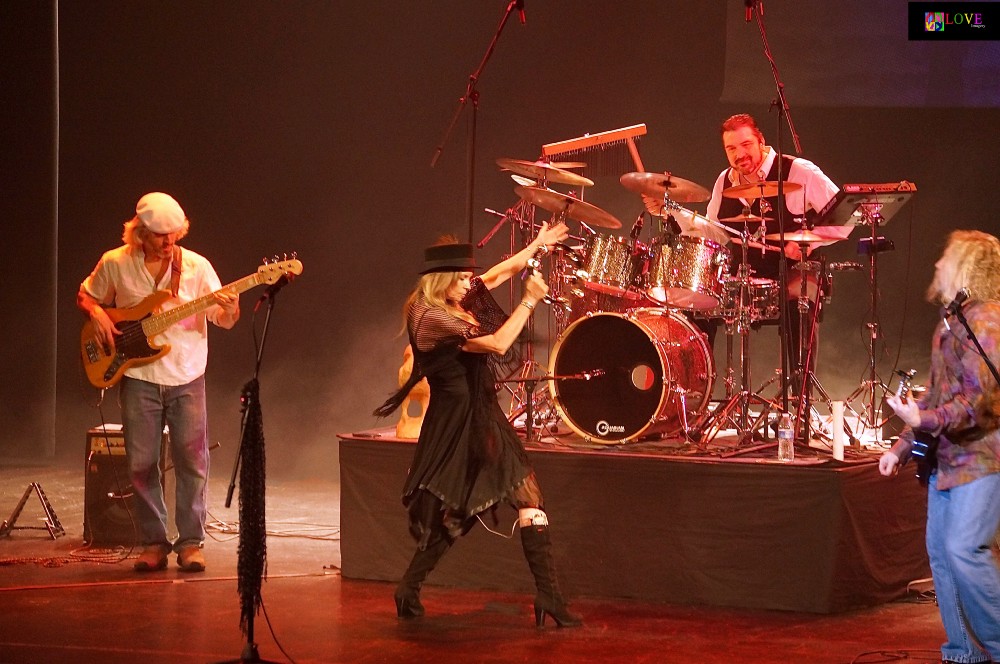 Philips chats with the audience revealing, "New Jersey is one of our favorite places to perform, since we are all from New Jersey," before adding, "although some of us have crossed to the other side to Pennsylvania, we are all Jersey at heart — it's nice to perform in our home state."
The audience continues to applaud and cheer as the group performs a song which Philips says "was supposed to be on the Rumours album but was cut because it was too long." Here, Tusk presents a compelling rendition of "Silver Springs" featuring Kathy Phillips' accomplished lead vocal.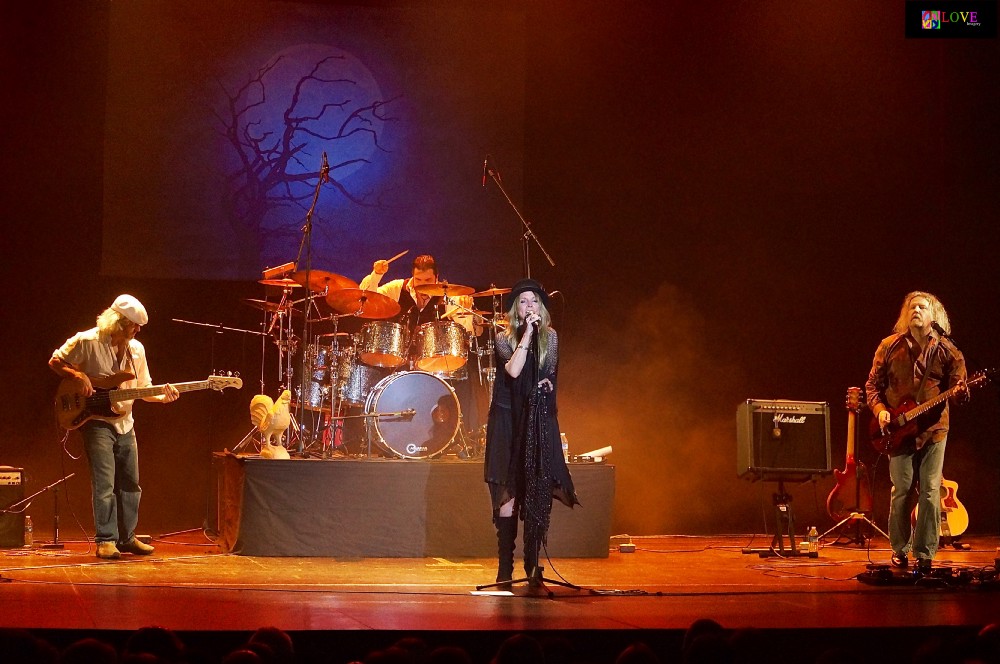 Kim Williams is featured again on lead vocals and keys on "Think About Me."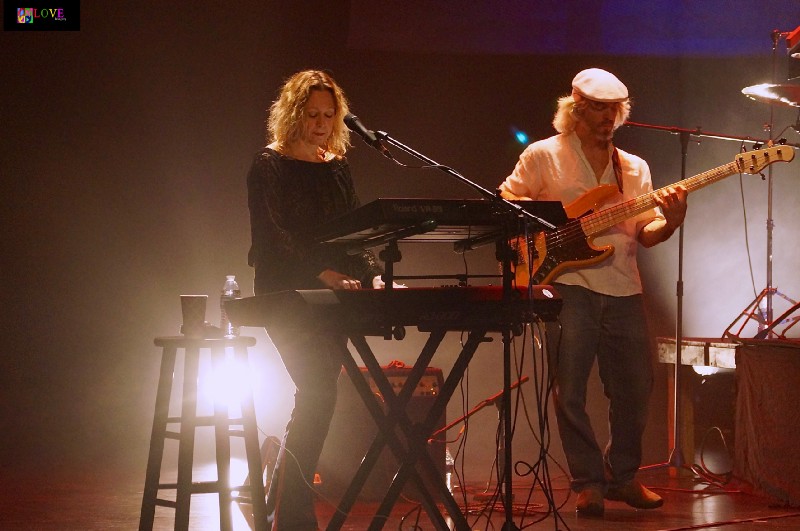 As she and the band perform, members of the crowd stand at their seats while others stand in the aisle and dance to the country-like beat, one happy music lover in the crowd happily shouting out, "Yeah, baby!"
An audience favorite tonight is Tusk's expert rendition of "Rhiannon." After Kim Williams adroitly plays the beautiful piano intro, the percussion softly joins in, and Phillips sings the gorgeous slow section. Soon, the the group shifts into overdrive, the audience clapping along to an exciting band jam featuring an electric keyboard solo.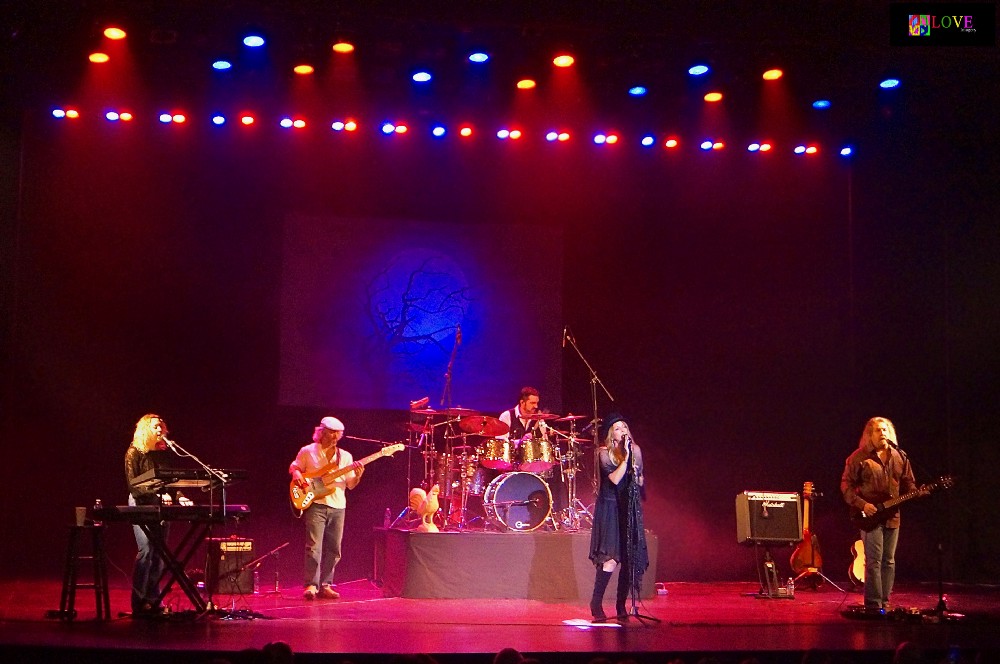 Additional highlights of Tusk's performance on this night of Fleetwood Mac classics include a sensitive portrayal of "Sara," a rollicking rendition of "You Make Loving Fun," a poignant presentation of "Landslide," and a rockin' cover version of "Go Your Own Way."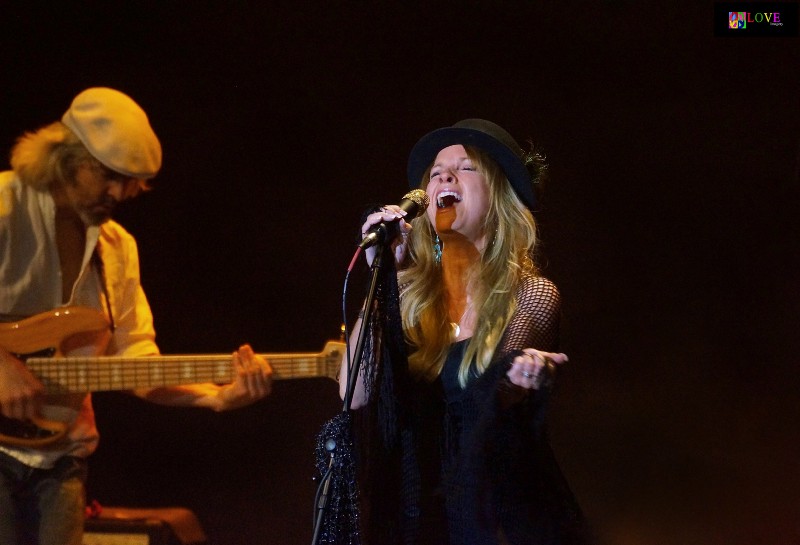 Tight vocal harmonies, rhythmic guitar work, and crackerjack percussion playing are ever-present on a driving performance of "Stand Back."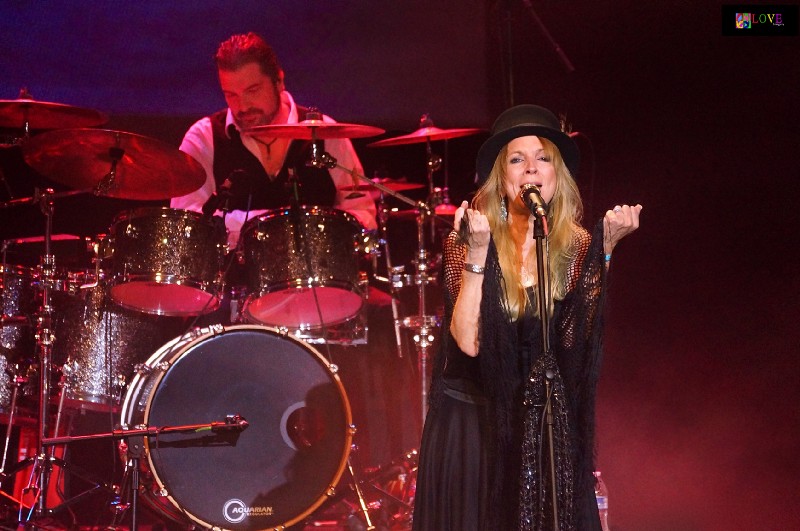 Following their performance of the group's namesake song, "Tusk," the band caps off the evening with a spirited performance of "Don't Stop Thinking About Tomorrow," leaving the crowd happy spending an evening with the timeless music of Fleetwood Mac.
As the crowd makes its way out of the auditorium, we take a moment to chat with several audience members who share their experiences this evening listening to Tusk.
Asserts June from Howell, "Tusk was great — they're such a great representation of Fleetwood Mac!"
Despite the fact that Marisa from Ocean Grove confesses, "I was never a huge fan of Fleetwood Mac" she nonetheless adds, "but I am now. I'm surprised that I happen to know so many of their songs and I'm shocked at how many hits the group had," and then exclaiming, "Tusk is just excellent!"
Dianna from Jackson recalls, "I've been coming to The Strand Theater ever since I was ten years old and I love this place," before acknowledging, "And I've seen Tusk before and I'd come back to see them again — especially here — I think they're great!"
Likewise, Jimmy from Freehold comments, "Tusk really captures the essence of Fleetwood Mac — the way they so accurately reproduce the group's repertoire really brings me back to my younger days and conjures up a lot of great memories!"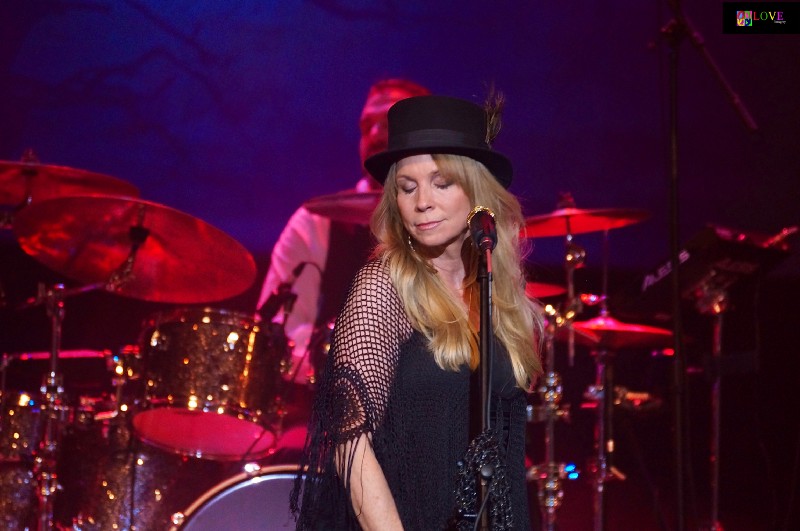 After the performance, we also get a chance to chat with two friends who are not only great music fans but frequent concertgoers as well.
Remarks Mona from East Windsor, "I was really looking forward to seeing Tusk tonight. I became familiar with them last year and I've been a fan ever since — they put on an amazing show!" before commenting, "And Sof is a wonderful up-and-coming singer-songwriter whom I've seen over the past few years. I loved her set and I know she has a bright future in music."
Cindy from Jackson, agrees with her friend, acknowledging, "Sof was a great addition to the show. She is an extremely talented singer-songwriter and I've had the honor of watching her grow. I cannot wait to see her perform again soon!"
Cindy also adds, "I first time I saw Tusk was when they came to the Strand Theater last year," noting, "This is the fourth time I've seen them and I love them! They're a group of extremely talented musicians with perfect harmony," before concluding, "If you're a Fleetwood Mac fan, you've got to see Tusk!"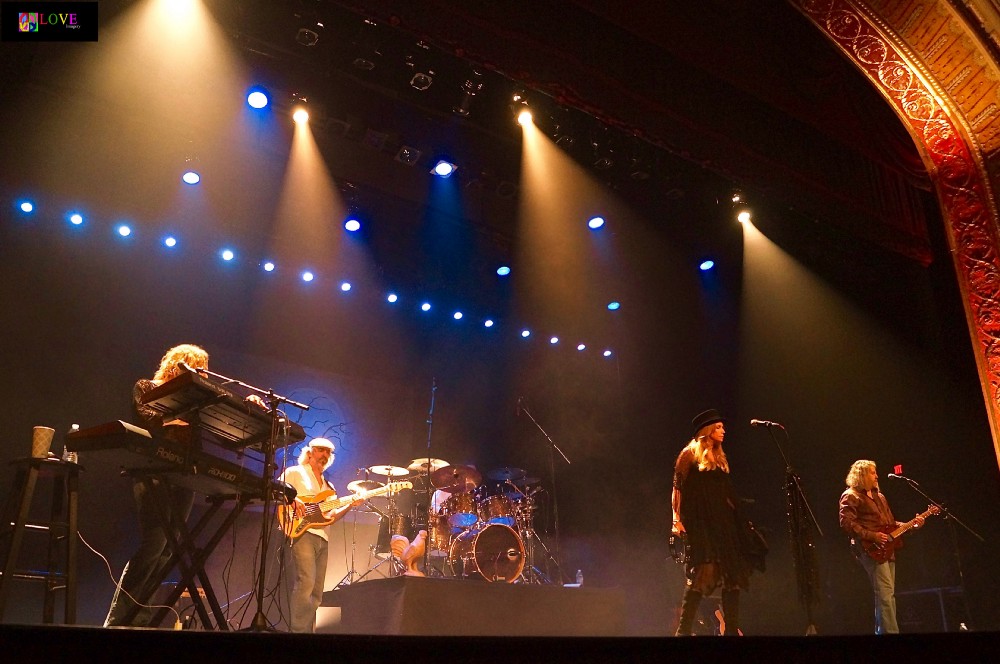 To learn more about Sof, please go to sofmusic.com. For further information about Tusk, please click on fleetwoodmactribute.com/TUSK. To find out more about future concerts at The Strand Theater — including Three Dog Night on Feb. 9, The Lettermen on Mar. 10, Almost Queen on Mar. 17, Tavares with Harold Melvin's Blue Notes on Apr. 13, and The Grass Roots, Paul Revere's Raiders, and The 1910 Fruitgum Company on Apr. 28 — please go to strand.org.